A seven days trip to Menorca  (flying with Volotea from Genoa) from 24th to 31st of July 2017.
Rented a car with https://www.hiperrentacar.com/it/, asking for a Fiat Panda or similar, ended up with a huge  Opel Meriva full optional and with just 450km. 220€. Nice car, but way too big to travel the narrow roads of Menorca.
I stayed in a room with bathroom and kitchen rented on AirBnb, in the outskirts of Ciutadella. Cheap (compared to average prices) triple room, 420€ for a week.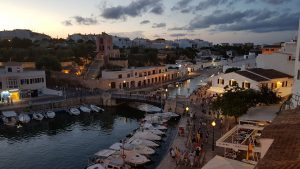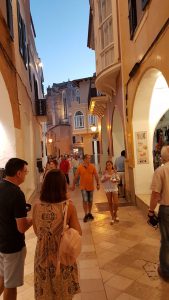 Mitijana, Mitijaneta e Trebaluger beaches from  Cala Galdana
Since Macarella, Macarelleta, Turqueta e Talaier were so full of people that at 9:30 AM a policeman was making you turn back 7km away from the full parking, i decided to go to Cala Galdana and start a walk towards Mitijana, Mitijaneta e Trebaluger.
You can park without problems along the road that discend to Cala Galdana, or in the designated free parking.
In 20 minutes you get to Cala mitijana/mitijanet. It was a bit crowded, but a lot of space to place your beach towel even next to the sea. The bay is very nice, transparent and blue water, white rocks and green pine trees.
You can go further, nad after 20 more minutes you reach cala Trebaluger. The path is a little more steep than the first part; adequate shoes are advised. This bay is much more quiet, with fewer people. The water even cleaner, perfect for snorkeling. A few naturists were presents.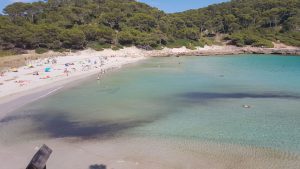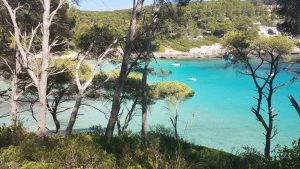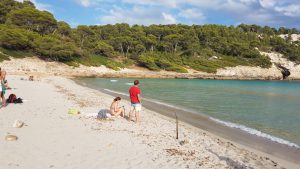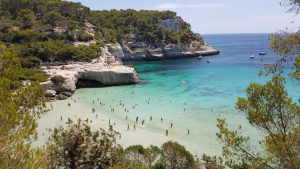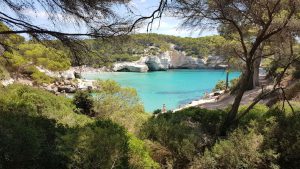 Binigaus beach, San Tomas, cala Escorxada
After leaving the car in the free parking , you have to walk along the coast headed west for 10 minutes, and eventually get to Binigaus beach.
The sand on the beach is of a very peculiar color, almost grasy as concrete, the water is shallow and clean. A lot of naturists are present in the zone toward cala Escorxada (under the cliff).
For walk to cala Escorxada you'd rather wear trekking shoes. Tt takes at least 40 minutes, but it is very scenic. Cala Escorxada is quiet, but you may find a lot of sea weeds.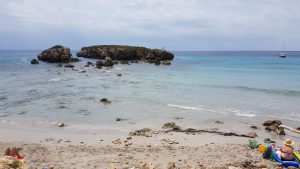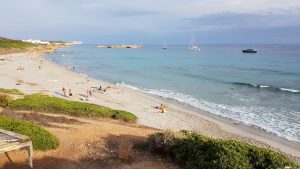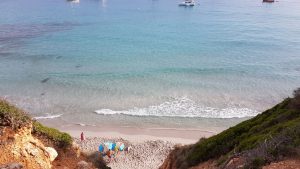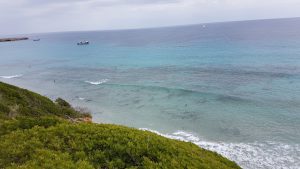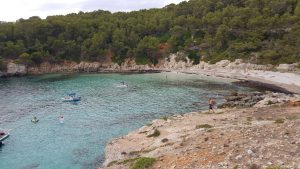 Cala En Turqueta, Talaier, Bellavista and Banyul beaches
I decidet to tour this beach by Monutain Bike. I rented a very good one from Dos Rodes , 12€/day.  Bike tour map
it's not a very long itinerary, but it get's techincal at some point, and you need a bit of expertise, or to take the bike by hand.
Cala Turqueta and Cala Talaier where very crowded, other than very beautiful. Banyul was totally covered in sea weeds (more than one meter depth of weeds in the water), and deserted. Bellavista was more suited for bathing: no crowd, and just some spot of weeds (Posidonia) along the beach and in the water. There was naturists in the middle section of the beach.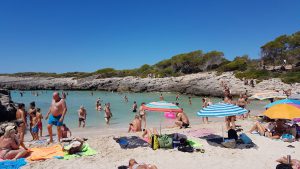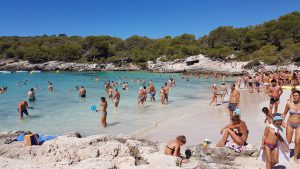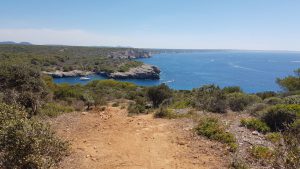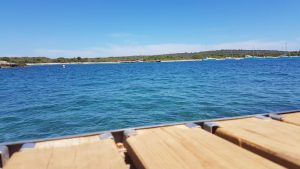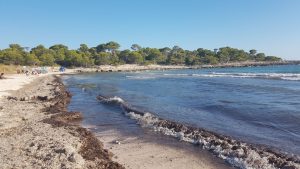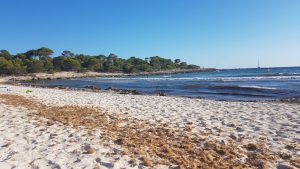 Algaierens, Macarella and Macarelleta beaches
Algaierens is located 10 minuts of Ciutadella, by car. You can park for free 5 minutes walk from the (crowded) beach. You can walk 10 minutes further, pass the cliff and reach an hidden bay with wondeful water and a tenth of the crowd (map). You can lay your beach towel in the shade of pine trees if you want. Lots of naturists, and unfortunately lots of boats.
I visited Macarella and Macarelleta after 7pm, and Macarella was still crowded. Macarelleta was deserted (i arrived there way after the sun went away)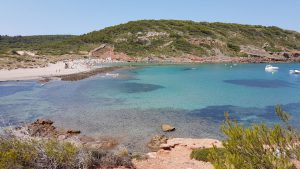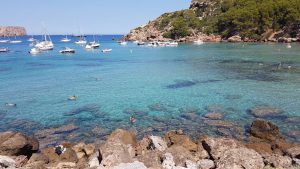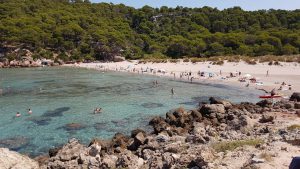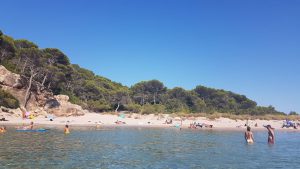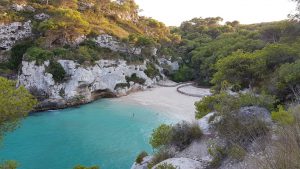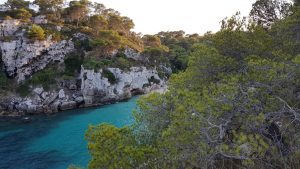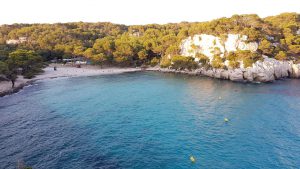 Continua..
Comments
comments